No Comments
2000 Series Early Riser Planters
High-Efficiency Planting

Combines a rugged row unit with the industry's most accurate planting technologies
Quickly adapts to meet unique field conditions
Consistently accurate – no matter the speed or conditions

Customizable

Customized direct from the factory to meet any soil types and cropping practice
Precision Planting r-ball options to meet your unique planting needs
Crop protection and fertilizer application options available

Easy Maintenance & Adjustments

Tool-free crop changes and adjustments on many components
Simple, accessible T-handle depth adjustment makes changing seeding depth in 1/8-inch increments quick and easy
NEW FOR 2018
2140 Early Riser Pivot Fold Planter Delivers Split Row Configurations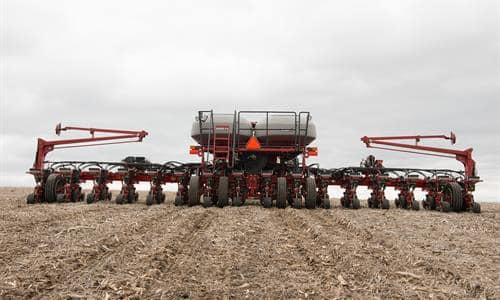 Expanding the 2000 series lineup, the new 2140 Early Riser planter adds ultra-narrow row spacing of 15-, 20- and 22-inch with split row configuration options, allowing producers to easily convert between crops. This planter is also designed with excellent ground clearance for unmatched terrain flexibility, a pivot fold transport package so producers can easily move from field to field and navigate tight field entrances, and a factory-integrated furrow system to apply in-furrow liquid fertilizer and granular chemical, reducing passes through the field.
Vertical Row Unit Travel

16-inches of vertical row unit travel improves performance in varied terrain while providing greater clearance for residue managers. Cast-iron row unit is built with larger, common hardware and fewer parts.

Opening System

Larger diameter and thicker Earth Metal® offset opener blades are agronomically designed to slice through residue and tough soil conditions.

Furrow Management System

Pulled gauge wheels with soil relief grooves eliminate sidewall compaction and control soil flow through changing ground speeds. The furrow forming point creates the industry's only flat-bottom seed trench.
Down Force Management

Through up-or-down hydraulic pressure, automatic and row-by-row DeltaForce® achieves consistent weight on the gauge wheels for unparalleled depth control. Or select air down force with or without in-cab gauge wheel feedback.

Floating Residue Management System

CleanSweep® air cylinders allow for in-cab adjustments of residue manager ride to accommodate soil and residue conditions.

Two-stage Closing System

Inverted closing disks zip the trench closed, placing high-moisture soil directly onto the seed. The press wheel ensures proper seed-to-soil contact.
(Source – https://www.caseih.com/northamerica/en-us/products/planting-seeding/2000-series-early-riser-planter#models)