No Comments
John Deere 2025R Review
Hydraulic output is run through a gear driven twin pump arrangement that flows 2.2 gpm to the power steering system and 3.4 gpm to implement needs (5.6 gpm total). And while the flow rate might seem a bit low when compared to 1 Series machines, the operating PSI is much higher (2421 vs. 2000), resulting in a three-point hitch (3PH) lift capacity of 1,150 lbs to the industry standard of 24" behind center link. As expected, position control is standard fare and the hitch rating is full Cat-I.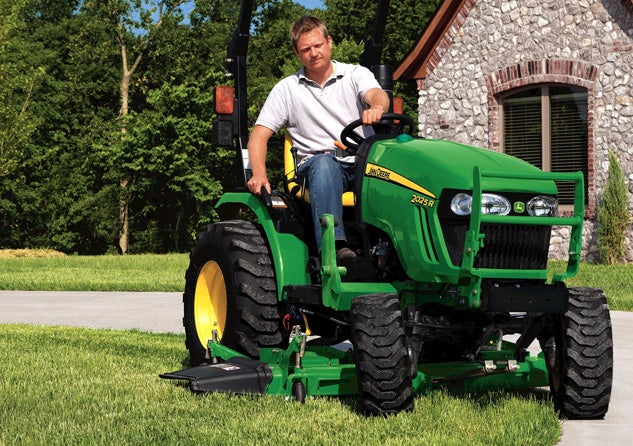 Operator control over the hydrostatic transmission runs through a twin side-by-side pedal arrangement that is among the best in the industry, though as we mentioned in our 2320 review, the new pedal position does require more foot movement than in the previous generation's setup. Getting behind the wheel and that becomes a trivial matter; full intuitive modulation over the entire forward and reverse speed range is the end result. And behind the wheel, John Deere ergonomics are first rate. Beginning with the levers and controls which are differentiated by color with mechanical and hydraulic interfaces in black and transmission-driven (PTO) interfaces in yellow, the operator's hands and feet seem to interact with controls at the perfect location. Both tilt steering and cruise control are standard.
The one negative, in our estimation, is a feature we're forced to get used to. Reverse implement operation (RIO) is a result of lawsuits that have forced manufacturers to come up with systems protecting the unsuspecting from harm by negligent operation of a tractor while reversing with the PTO engaged. While we would never wish harm to anyone, these systems become nuisances that in no way ensure an operator looks rearward before backing up. Both 540 rpm rear and 2,000 rpm mid PTOs are standard equipment on the 2025R.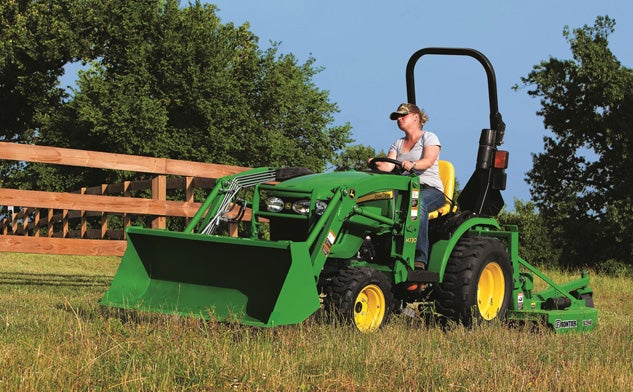 John Deere engineers have long paid attention to the ease of operation, which includes the ease of attaching/detaching implements. For the 2025R, some of those operating enhancements include On-Ramp drive over decks, iMatch quick hitches, iMatch auto connect (PTO) hitches, and a quick park loader with quick attach bucket options.
Our test tractor was outfitted with the H130 loader. This is a direct replacement for the outgoing 200X/200CX loader and offers comparable performance with a lift capacity of 1,023 lbs to a full lift height of 78.9". With 3.4 gpm at 2,421 psi flowing to the loader, breakout force is 2,508 lbs with rated cycle times of 4.73 seconds full raise, 2.88 seconds full lower, 4.743 seconds full dump, and 2.88 seconds full curl.
A model 270a backhoe is also available. As with other John Deere backhoes, the 270a can be operated at idle, which is perfect for beginners to get used to digging with less chance of damage to adjacent objects. The system is sub-frame based and allows a mid-mount mower to be attached at the same time. Another nice feature is that the tractor's 3PH arms can remain attached while using the backhoe. The 270a comes with improved feel and feathering, pivot seat that can be adjusted horizontally and vertically to operator preference, and can be outfitted with 8", 12" or 16" buckets.
John Deere's 2025R measures 109.2" long and carries all 1,660 lbs of its base weight on a 63" wheelbase. Ground clearance is 12.5" and turning radius with brakes applied (left side split pedals) is 6.7' (7.7' without brakes applied). 23×8.5-12 front and 31×12-16.5 rear industrial (R4) and same size turf (R3) tires are offered.
John Deere gives the 2025R a two-year bumper-to-bumper warranty with extended powertrain coverage to three years. Notable options include factory cab, additional lighting, engine coolant heater, and rear fender extensions (dare we say fender flares?). For anyone in the market for a subcompact tractor such as the 1 Series but liking the idea of larger tires and more hydraulic response, the 2025R is a worthy contender.
(Source – http://www.tractor.com/manufacturers/john-deere/2014-john-deere-2025r-review-1656.html)