No Comments
New Soil Fertility Tool for 2016: Harrell's Soil-Test Calculator
Soil-tests can provide a lot of valuable information to the turf manager.  Soil fertility values such as pH, Phosphorus, Potassium, and Magnesium are important for growing high quality turf.  For example, soil pH impacts micronutrient and phosphorus availability.  Low potassium and magnesium can impact overall turf color and density.
Remembering the best management practices to implement once these values have been determined is key to properly utilizing soil-tests.  A lot of agronomic materials are available to address needs identified on soil-tests, but properly identifying specific products and rates can often be challenging or confusing.
In order to provide some guidance for developing agronomic plans based on soil-tests, Harrell's has developed the Harrell's Soil Calculator which utilizes soil-test results from any lab and provides recommendations to meet the agronomic needs identified in the soil-test.  Below is an example of a sample soil-test and the products recommended based on the needs identified in the soil-test.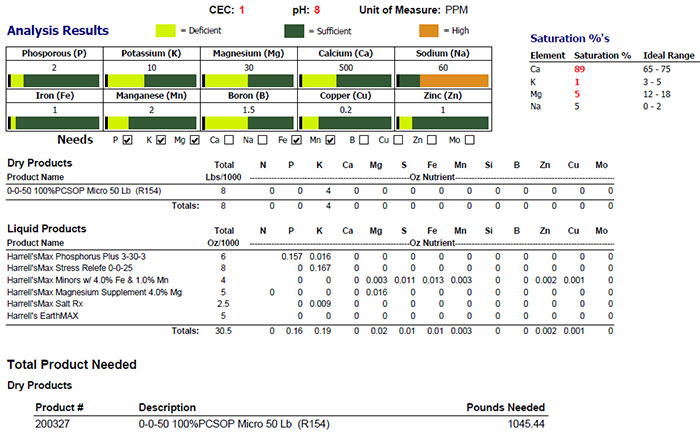 (Source – https://www.harrells.com/blog/new-soil-fertility-tool-for-2016-harrells-soil-test-calculator)