No Comments
Challenger MT875E
Along with the rubber track drive and suspension system developed by Caterpillar, big power with deep torque reserves is a necessity in this marketplace. Not surprisingly, Caterpillar power continued to be used in the majority of Challenger machines. But AGCO has managed to kick it up a notch with latest generation of AGCO POWER engines which tout Cat 16 torque while meeting EPA Final Tier 4 (FT4) emissions requirements without need for heat generating Diesel Particulate Filters (DPF).
In 2013, Challenger introduced three new MT700E Series tracked machines that ranged from 350-400 engine horsepower, and were designed around the needs of today's progressive growers. For 2014, the MT800E Series moves into the limelight with four models ranging from 450-590 engine horsepower. AGCO POWER 16.8L engines are used in all four models which utilize two-stage turbocharging, have electric waste gates, and allow for boosted HP in certain conditions to hit the performance "sweet" spot. These 12-cylinder/48 valve engines have a 42% greater torque rise over the entire RPM range, resulting in a reduced need for an operator to have to downshift or pull the implement out of the ground.
AGCO's HHT Marketing Specialist, Bill Gearhart began with the Mobil-Track system which utilizes two "marshmallow" springs, an oscillating "bogie" system with suspended mid-wheels, and a stabilizer bar that has a full 8-degrees of motion – all making for better ground contact with less soil compaction at the same time providing a better ride.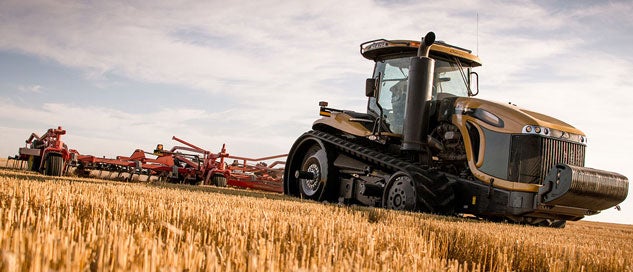 Higher flow hydraulics is another improvement, with standard configuration models now flowing 58 gpm (almost as much as the high-flow option of the previous series), and high-flow systems 85 gpm. The closed center system utilizes two pumps, with the second kicking in only when needed. Up to six remotes (four standard) are supported along with power beyond which is capable of providing full flow to implements such as large air seeders. Remotes are pressure flow compensation (PFC) and have interchangeable couplers. The three-point hitch (3PH) is rated to lift up to 16,000 lbs. Front hydraulics are not offered, befitting of a machine designed to do its heavy work from behind.
The Pinnacle Cab is clearly a place aimed for the operator to appreciate. The view is 360# with clear sight lines to the tracks, drawbar and implements. Controls are intuitive, the seat soft leather with a heated and vented option, and the powerful lighting package for those long hours is top notch. Challenger machines also utilize a hydraulic cylinder to put pressure to the undercarriage. The cylinder absorbs shock and smoothes out ride after hitting an obstacle. Hydraulic pressure is monitored and the operator can adjust the amount of tension from inside the cab. Caterpillar differential steering is also utilized for control and comfort. And for near luxury automotive bragging rights, the radio controls are mounted right on the steering wheel.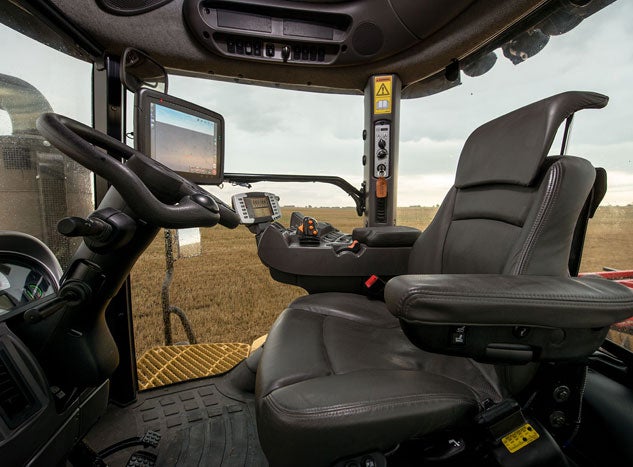 The Caterpillar PowerShift transmission used is a drop box-less design, so there are fewer losses while still getting top fuel economy and performance. The transmission has16F and 4R gears and includes a power management setting for pulling large implements. When engaged, the system will automatically upshift or downshift depending on the load. Transport speed is up to 25 mph and to manually change gears, simple up/down buttons are used.
Gearhart closed our interview adding, "along with the Mobil-track under carriage system, Pinnacle Cab, high flow hydraulics, heavy duty drawbar and PTO, the MT875E is well-suited for the largest seeding, tillage and grain applications. These machines are designed to handle the widest fields, steepest hills, and tightest planting and harvesting windows."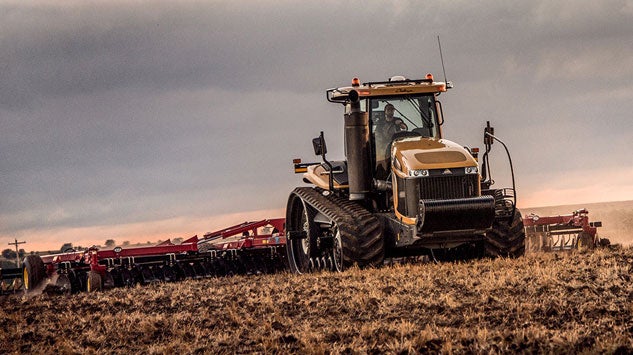 Order a MT875E and there are many track options ranging from special application tracks in 30" and 36" widths, general agriculture tracks in 27", 30" and 36" widths, and extreme application tracks in 18", 27.5", 30" and 36" widths. The drawbar is Cat 5 standard with a drop down pin for Cat 4 implements. A scraper special is offered, complete with a tow cable and task-oriented special transmission software. There is also a full range of electronic aids available, from Auto Guide 3000 to satellite-assisted steering. FUSE TECH brings together products and services such as guidance, steering, telematics, diagnostics, application controls, yield and grain storage monitoring. AGCOMMAND wireless transfer is supported so data can be sent from the MT875E to the office or a mobile device.
(Source – http://www.tractor.com/manufacturers/others/2015-challenger-mt875e-review-1678.html)